An ecologically deteriorated site turned state-of-art neighbourhood, Intrapac transformed 136ha into a diverse and thriving community we named Somerfield. Located in Melbourne's south east, 30 minutes from the CBD, eight minutes from the beach and adjacent to neighbouring schools, sports facilities and shopping precincts — Somerfield is truly at the heart of the everything.
With 1996 lots, Somerfield catered to many demographics, from young families to singles and downsizers, for a genuinely inclusive community. One of the few remaining significant residential infill sites in Melbourne, the project, which was completed in 2018, delivers true urban sustainability and nurturing a connected community, while celebrating the site's horticultural heritage.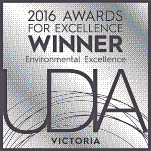 UDIA (VIC) 2016 Awards for Excellence - Environmental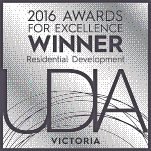 UDIA (VIC) 2016 Awards for Excellence – Residential Development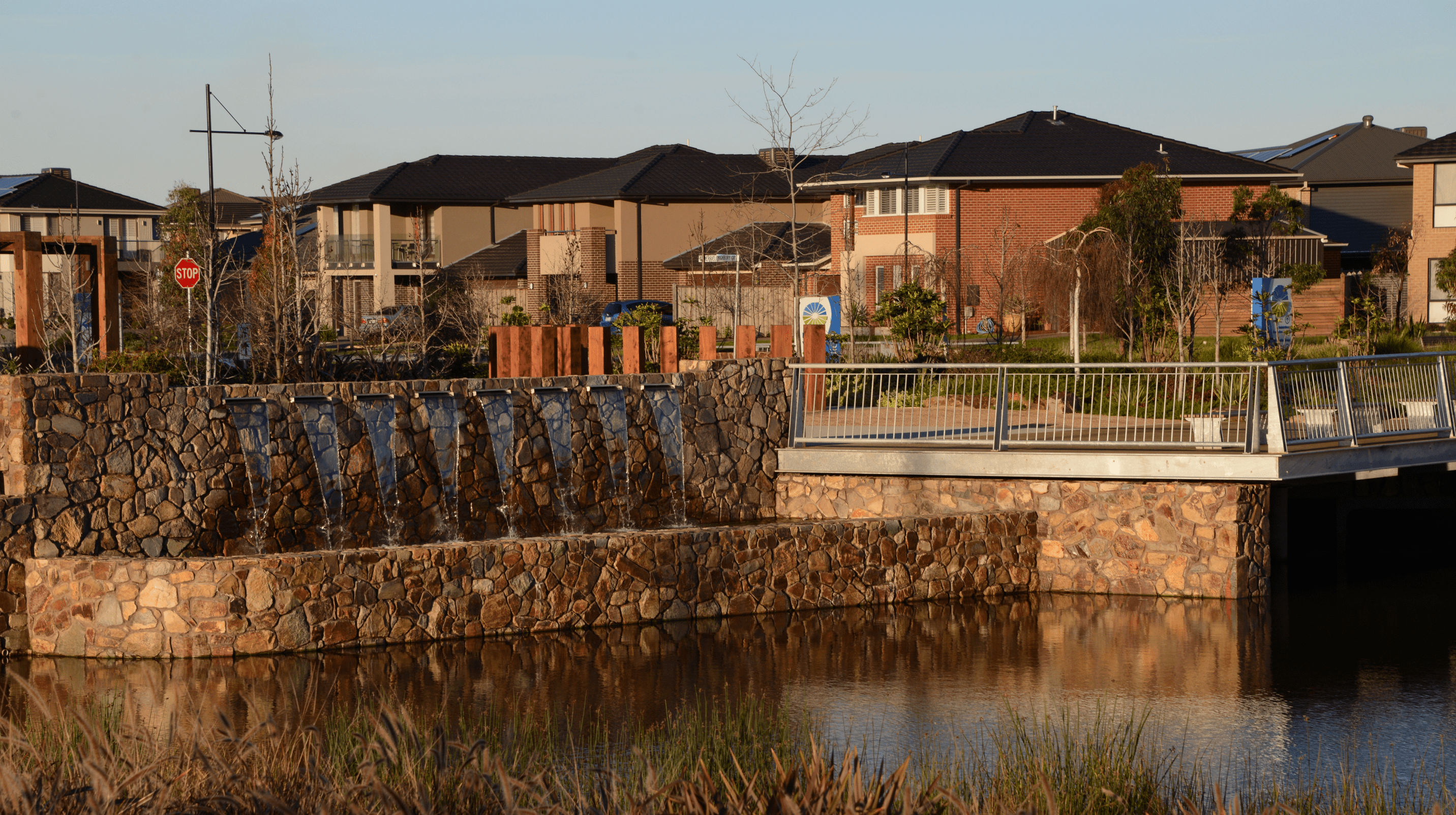 We couldn't have asked for a nicer and more practical place to live. 8 minutes drive to the beautiful Mordialloc precinct with amazing cafés and beach culture. Eastlink being so close makes it easy to travel into the city and to work. Mornington Peninsula is just a stone's throw away. All the shops we need for our day to day living are also very accessible. Just perfect.
The Drivas Family

Vision
Somerfield was envisaged as an integrated residential development with a level of amenity well above those otherwise found in the local area. This was achieved by encouraging a diverse, connected and sustainable community that celebrates and connects to the natural environment, and the historic market garden and horticultural heritage of the area.
Connectivity and security were key to our vision of a neighbourhood that was meaningfully integrated with the surrounding Keysborough community. Footpaths, cycling tracks and public transport within walking distance of every dwelling ensured residents would enjoy direct access to adjacent retail and community precincts. Passive surveillance principles were employed with open spaces visible from roads, and design guidelines minimised front fencing to create a neighbourly sense of security.
Landscaping design excellence defines the character of Somerfield. Setting this tone during initial planning phases, an additional rates levy was negotiated with The City of Greater Dandenong to ensure ongoing, high-quality maintenance of the many outdoor spaces in the precinct. These measures allow Council to maintain the open spaces without a significant cost burden while providing a material amenity benefit to residents.
A large proportion of the land area (16.7%) is dedicated to open space and as a result, greenery abounds. Neighbourhood parks, wetlands, bike trails, boardwalks and established native flora are plentiful and every house is within 400m of an open space. The many open areas at Somerfield serve to encourage interaction between members of the local community, and support our goal of creating a vibrant, harmonious community. Intrapac ensured that the landscaping investment throughout Somerfield greatly exceeded minimum requirements to materially enhance what is now a renowned open space network.
Since moving to Somerfield we have been very impressed with the lifestyle. The gardens, lakes and parks make it such a beautiful place to come home to and our daughter has spent many, many hours playing in the fantastic park. The facilities there are handy for the adults too, with BBQ areas, undercover eating areas and great scenery for a leisurely stroll. Our daughter also loves visiting the ducks at the lake, which can also be good entertainment for the adults. The neighbours are friendly and it's like living in a small country town.
The Navas Family

Housing diversity was also an important consideration at Somerfield. We delivered "conventional" detached lots ranging from 250m2 to well over 600m2, catering for those looking for small allotments for affordability reasons through to the larger allotments for multi-generational households or the more affluent buyer. We also introduced townhomes catering for those looking for a more affordable price-point in the area, such as single parents or for those seeking a turnkey, lower maintenance home such as busy professionals and downsizers. This saw the introduction of two-bedroom homes to the area, and a unique "apartment" style product, the likes of which had not been seen in the area previously.
Importantly, the lot mix and design guidelines were carefully sculpted in such a way that all homes, whether big or small, on compact or large lots, seamlessly combined together to create an interesting and considered streetscape.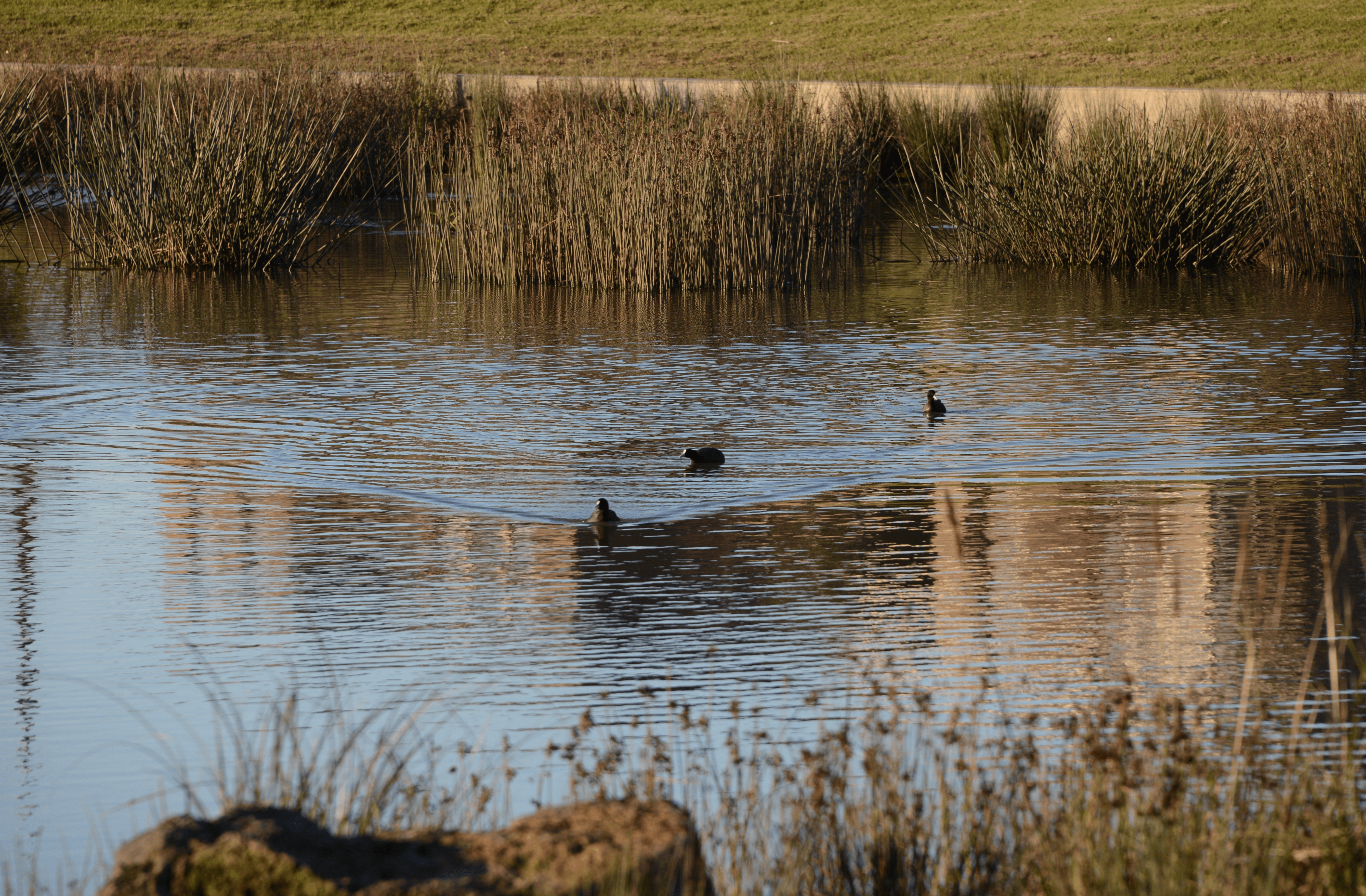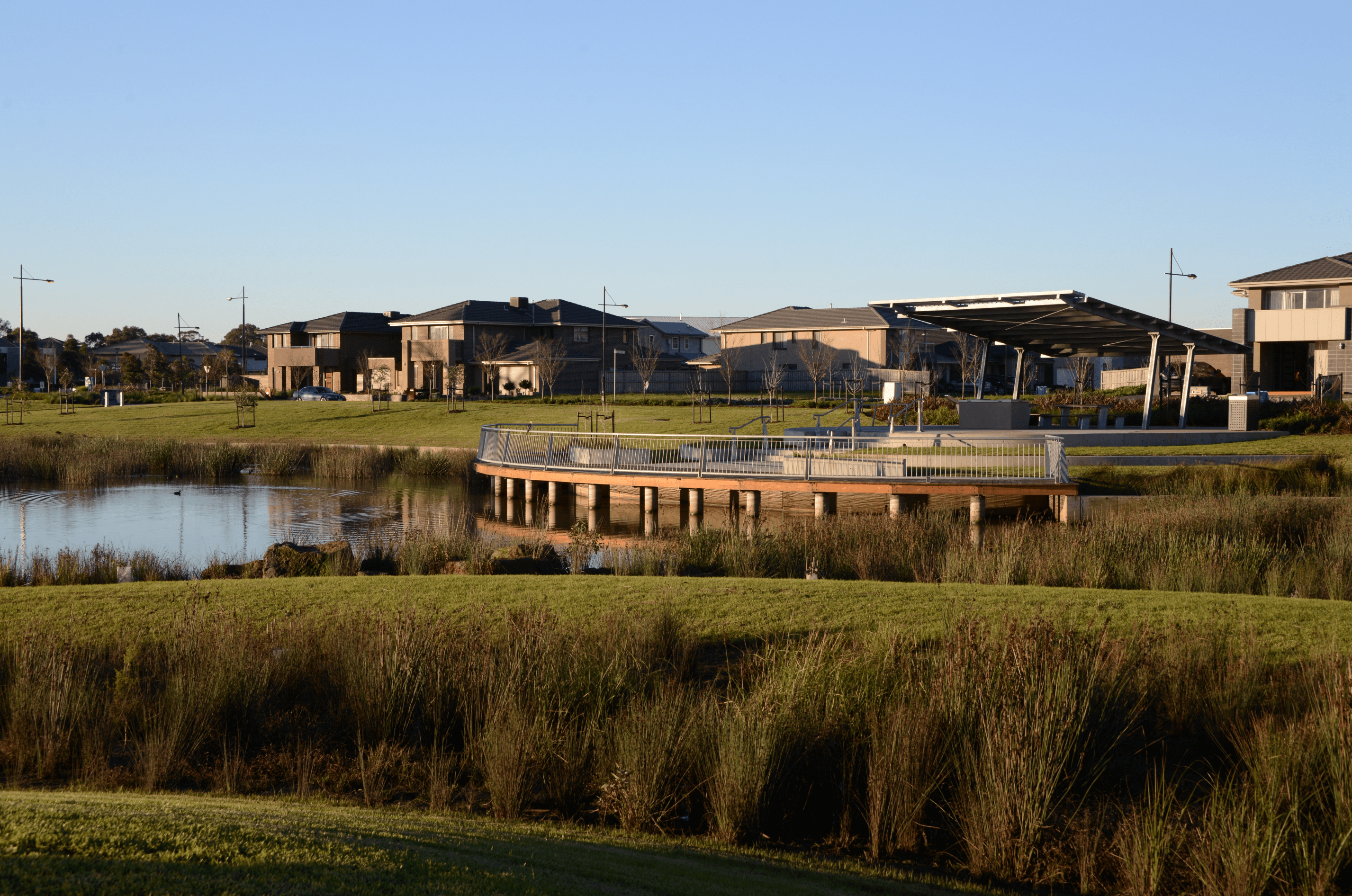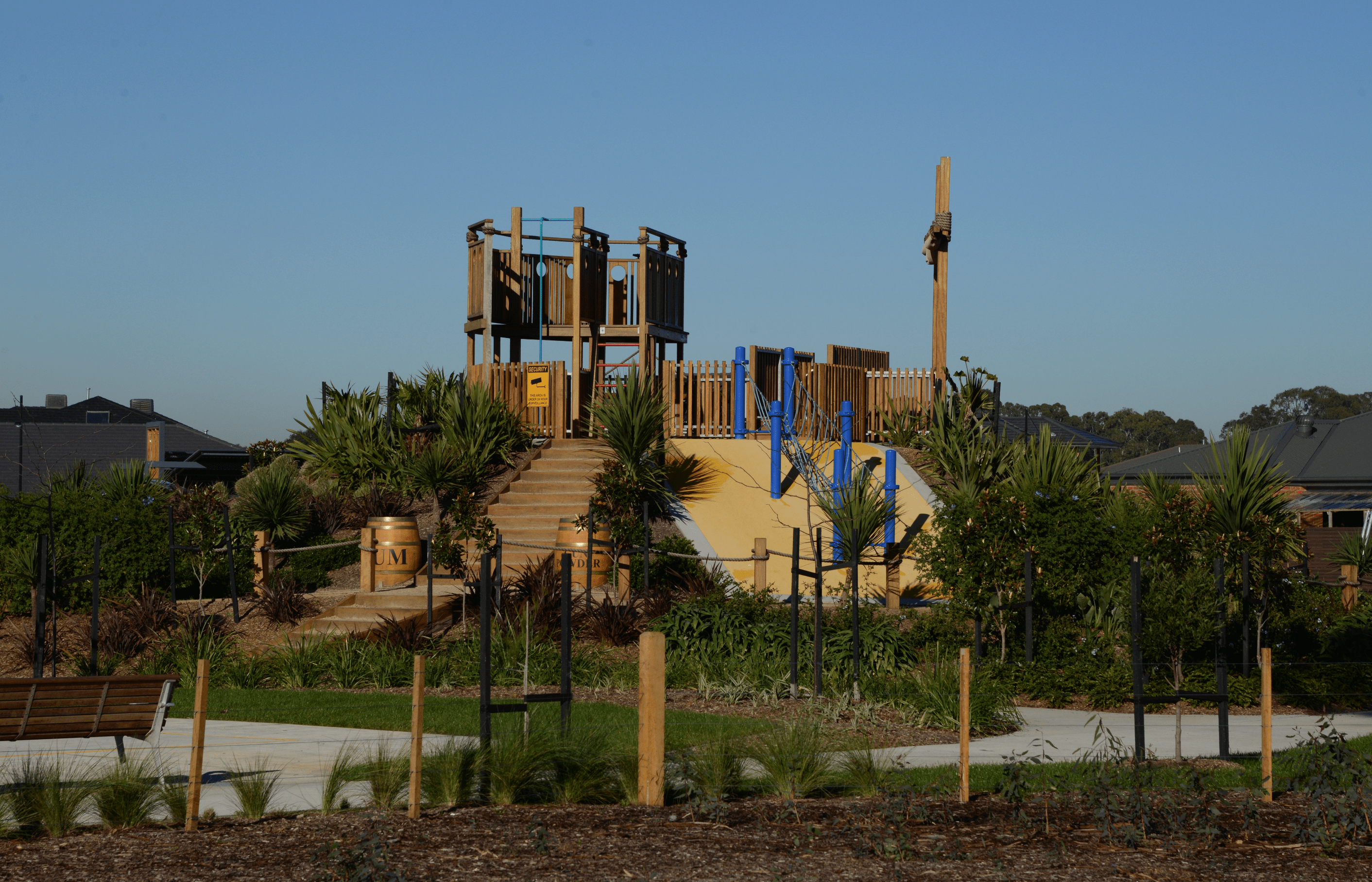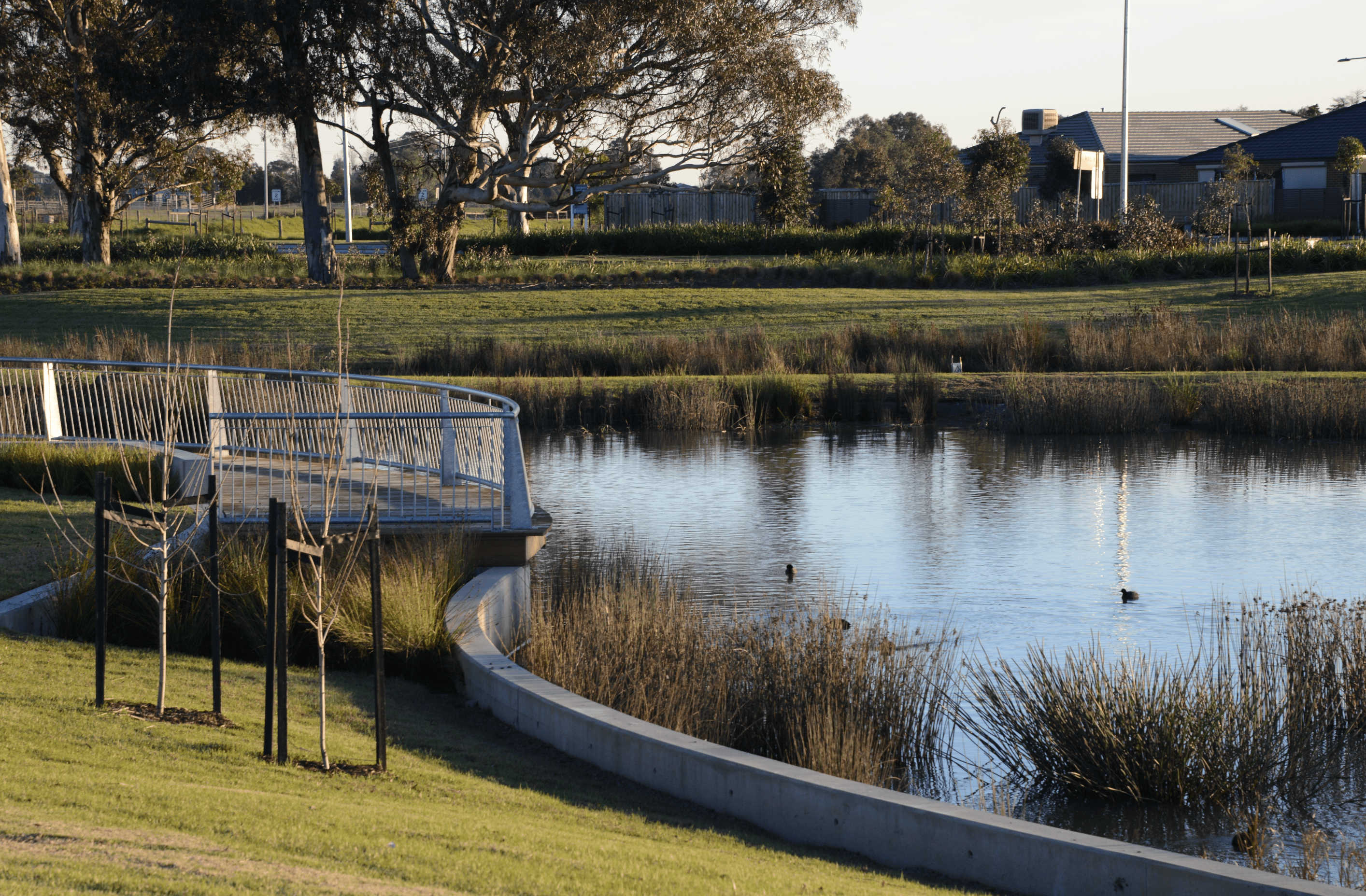 Stewardship
Somerfield was one of the first subdivisions to provide recycled water infrastructure, well before it became mandatory, and prioritised water sensitive urban design. Functional wetlands provide stormwater storage and act as landscape attractions whilst remaining accessible to the community. Similarly, dry-creeks have been aesthetically incorporated within drainage easements, facilitating water cleansing. Stormwater drains connect to an open swale system, leaving Somerfield water quality significantly superior post development that before. The early installation of an on-site desalination plant reduced potable water consumption until recycled water was connected, with three bores supplying 120,000L of clean water daily which saved tens of gigalitres of water. 
Throughout development, the significant site, planning and infrastructure challenges required out-of-the-box creativity. Formerly an area which was home to dog kennels, a chicken farm and market gardening, the land was ecologically degraded. At the site's centre, dog kennels prohibited development of land within an 800m radius due to noise regulations. Here, we not only rose to the challenge but provided a solution for all parties by negotiating both the purchase and the amicable relocation of the kennels and the chicken farm. We then collaborated with council and existing landowners to facilitate removal of noxious elements in a $12 million environmental remediation. This solution ensured the site met and exceeded EPA guidelines for residential uses while simultaneously rehabilitating the natural ecology. 
Drainage, particularly the major retarding basin at Perry Road, presented issues as the area necessary to retain the water required would have significantly depleted the development potential. To reduce the required area, we created an innovative hybrid basin system — incorporating part wetland design alongside a structural basin of stone walls. Our innovation garnered an Australian Tax Office Research and Development Tax Concession.
Partnership
Intrapac has had a long association with Brencorp Properties, a wholly owned subsidiary of Peter Scanlon's Taverners Group. We entered into a joint venture with Brencorp to deliver Somerfield. This was the third time Brencorp had partnered with Intrapac, following a business model involving a very select few property developers. 
Legacy
In 2012 Intrapac helped establish and provided financial sponsorship to the Somerfield Community Social Club, which runs events and fosters friendships between neighbours. Intrapac supported The Club to lobby on community issues, such as the local government school and commencement of public bus services throughout the site. Our collaboration was rewarded with the announcement of funding for both of these in the 2016 Stage Budget. The Somerfield Community Social Club still exists a decade on and as of August 2022 had over 1,800 members on its Facebook page.
We love being part of Somerfield because it's close to all utilities – full of greenery and parks and, above all, it's a multicultural community.
The J Singh Family

In 2011 Somerfield's sustainable excellence saw it become the first development accredited under the Urban Design Institute of Australia's new National Scheme for EnviroDevelopment, in the areas of ecology, water and community. 
Our long-term commitment and uncompromising vision towards an environmentally-connected community saw Somerfield receive multiple awards including two Victorian Landscaping Awards as well as two Urban Development Institute of Australia Awards for Excellence – large scale Residential Subdivision and Environmental Excellence.