A significant new sculpture by internationally renowned Australian artist David Ball is the crowning element of Intrapac Property's Quay2 residential development in Torquay.
The elliptical form measuring 4.3 meters tall by 4.9 meters wide punctuates the entrance to the Quay2 community, its impact enhanced by its position alongside a large water body in the new wetlands park that provides stunning reflections. Visible to traffic travelling along Surf Coast highway, it is sure to become a local landmark and a source of pride for Quay2 residents.
Ball has built a career for his hand-he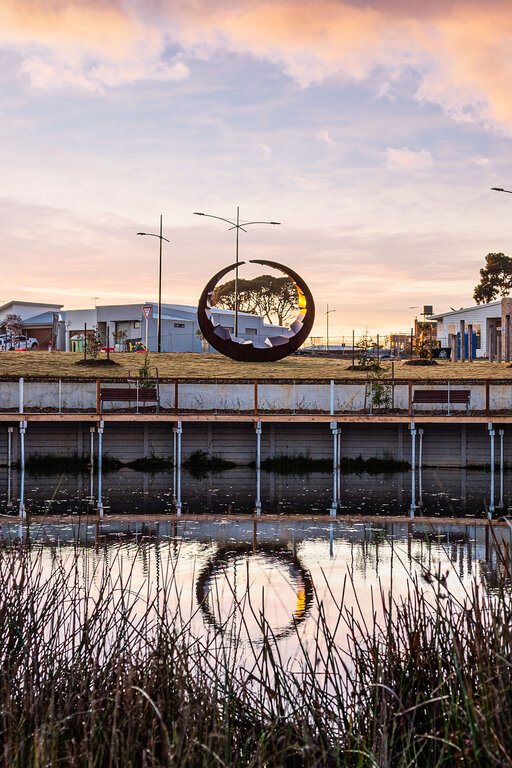 wn, larger-than-life corten steel sculptures, whose organic forms and rusted hues cause us to pause and admire the scale and beauty of the Australian landscape. The Quay2 sculpture, which he has entitled, 'Eolian', draws on its surroundings to create a focal point in the landscape. It is part of a series that explores the theme of universality of life.
"Eolian speaks of nature, geology, architecture and our human landscape. This piece represents a geological fragment of the earth's crust that one could imagine to have been forged in situ or deposited on the coastal winds from afar. It's faceted sections create elegant angles and curves that sit lightly in the landscape and embrace the sky", explained the artist.
The sculpture is a fitting addition to Quay2's wetlands park which was designed by Landsite Landscape Architects. Director Darren Taitoko described the wetlands' environmental benefits, "The wetlands effectively act as a tributary to the Deep Creek Reserve, they collect and filter stormwater from the Quay2 estate before it reaches the creek. The wetlands park retains significant tracts of native Moonah trees and reintroduces a range of indigenous plant species, making a significant contribution to local biodiversity".
A raised boardwalk enables locals to traverse the wetlands, eventually linking up to the existing walking track through the Deep Creek Reserve, providing a pleasant and safe pedestrian accessway to White's Beach.